Menu
Subway Subs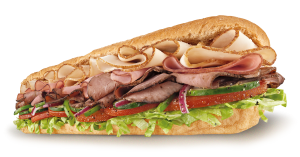 All sandwiches are available in six-inch or footlong sizes.
Classic
Black Forest Ham
Oven Roasted Chicken
Veggie Delite
Spicy Italian
Cold Cut Combo
Meatball Marinara
BLT
Tuna
Select
Sweet Onion Chicken Teriyaki
Turkey Breast
Italian B.M.T.
Turkey Breast & Black Forest Ham
Signature
Steak & Cheese
Subway Club
Chicken & Bacon Ranch
Roast Beef
Subway Melt
Extras
Bacon
Cheese
Pepperoni
Double Stacked™
Freshly Baked Bread
For a six-inch or footlong: Italian, Italian Herbs & Cheese, 9-Grain Wheat, Monterey Cheddar, 9-Grain Honey Oat Wheat.
Or try your sandwich on our delicious flatbread.
Made to your taste
Cheese
White American, Pepper Jack, Cheddar, Shredded Monterey Cheddar
Fresh Veggies
Lettuce, Tomatoes, Cucumbers, Green Peppers, Red Onions
More Variety
Pickles, Black Olives, Jalapeño Peppers, Banana Peppers, Parmesan Cheese, Spinach, Salt, Pepper, Vinegar
Fat Free Sauces
Honey Mustard, Sweet Onion, Red Wine Vinegar, Spicy Brown Mustard, French Yellow Mustard
Full Flavor Sauces
Chipotle Southwest, Light Mayonnaise, Ranch, Oil
Make it a Meal
Add a side and a 21 oz. drink or bottled message to your sub.
Kids Size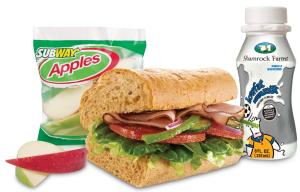 Includes a Fit Mini Sub of Your Choice (Turkey Breast, Black Forest Ham, Roast Beef or Veggie Delite) with Apples, a Drink and a Toy.
Side & Drink Options
Sides
Cookies
Chips
Apple Slices
Yogurt Parfait
Soup
Drinks
Fountain Drink
Bottled Beverage
Milk
Juice Box
Juice
Breakfast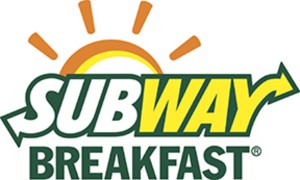 Make any 6-inch breakfast sub a footlong!
Breakfast Sandwiches
Egg & Cheese (with choice of veggies & Black Forest Ham)
Sunrise Subway Melt
Breakfast BMT
Bacon, Egg & Cheese
Steak, Egg & Cheese
Sausage, Egg & Cheese
Drinks
Juice
Coffee
Salads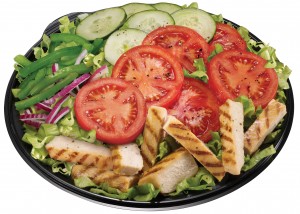 Salads
Veggie Delite
Any Regular 6″ Sub Made into a Salad
Salad Add-Ons
Double Portion of Meat
Pizza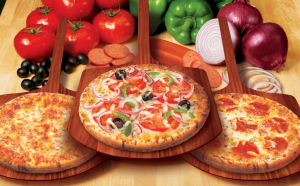 Cheese, Veggie, or Pepperoni
For catering options, see our catering page »